SUP GRAVURE: the specialist for pad printing
Our company is specialized in pad printing for over 30 years and ISO 9001 certified French leader in manufacturing buffers silicone for printing and in the chemical etching steel plates, cylinders rotary, wheels concave flat areas.

We offer a full range of services tailored to your projects. Feasibility study. Specific development: Tools - clichés, wheels, cylinders, silicone pads, inks. Accredited training - Getting Started on site. Monitoring and support provided by on-site technicians. We also offer a range of standard products or specially developed in our workshops.

Design / production: Movies P.A.O. station / Flashing. Engraved tools, blocks any format and thickness. Wheels flat, concave and sectors, cylinders for rotary printing.

Design / production: Silicone pads. Miscellaneous: clichés sensitive steels, photopolymer plates, inks, ceramic rings, cleaning adhesive. Pad Printing training.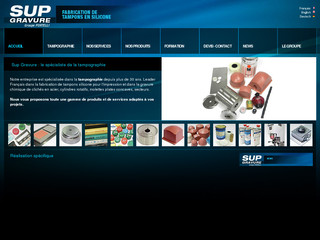 Director :
M Rocha
Activity :
Pad printing consumables
Phone : 04 74 78 45 50
Fax : 04 74 78 06 17
Address :
ZA La Rivoire 38122 COUR ET BUIS
Mail : jean.rocha@wanadoo.fr

---